MFSB™ HISTORY
Gold Records with Philly International Records,
Grammy Awards with Motown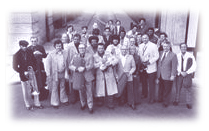 Throughout the years, there have been several musicians in MFSB. To better understand their contributions, MFSB is categorized into three distinct periods.
1. Earlier MFSB featured:
Carl Chambers and Earl Young on drums;
Norman Harris, Roland Chambers, Bobby Eli, and TJ Tindall on guitar;
Winnie Wilford and Ronnie Baker on bass;
Vince Montana and Larry Washington on vibes and percussion,
Leon Huff and Thom Bell on keys.

The original period lasted from the late 1960's through the mid 70's. Songs like Cowboys to Girls, Love Train, Me and Mrs. Jones, I'll Be Around, and The Love I Lost were recorded by the Original MFSB.
2. The "In-Between-ers" featured:
Charles Collins on drums;
Michael "Sugar Bear" Foreman on bass;
Dennis Harris and TJ Tindall on guitar;
Leon Huff, Victor Carstarphen, and Lenny Pakula on keys.
This period featured songs like, She Used to be My Girl; Wake Up Everybody, You'll Never Find, I Don't Love You Anymore, and Enjoy Yourself. This was also the time Gamble and Huff moved into their world headquarters at 309 South Broad St. This was an important period. For it proved conclusively that Gamble and Huff could create hits with whomever they chose. This period lasted from about 1974 through 1976.
3. The Music Family featured;
Dennis Harris on guitar;
Keith Benson and Quinton Joseph on drums;
Jimmy Williams on bass;
Leon Huff and Dexter Wansel on keys.

MFSB Music Family is the final incarnation. While MFSB Original recorded the most Gold singles – MFSB Music Family recorded more Gold and Platinum LP's than any previous group. This is because MFSB Music Family's first recording turned out to be Teddy Pendergrass' first solo album and "TP" was the biggest selling artist at "PIR." MFSB Music Family also recorded "PIR's" biggest single, ever, – Ain't No Stopping Us Now.
MFSB Music Family stayed on with Gamble and Huff for seven years, from 1977 until the first PIR era came to a close, in 1983.
There were other musicians outside the rhythm sections that also helped to define MFSB – Zach Zachary, Bobby Martin, Jack Faith, Don Renaldo, Fred Joiner, the Sweeties, and a few others. However, the only constant throughout the entire fourteen year run was none other than Leon Huff – co-founder of Philadelphia International and MFSB.

Key MFSB Members
MFSB "Key Members" alphabetically:
Bass:
Ronnie Baker. Michael "Sugar bear" Foreman, Anthony Jackson, Jimmy Williams

Drums:
Keith Benson, Carl Chambers, Charles Collins, Quinton Joseph, Earl Young
Guitar:
Bobby Eli, Dennis Harris, Norman Harris, T Life, and TJ Tindall,
Keys:
Victor Carstarphen, Leon Huff, Lenny Pakula, Dexter Wansel
Others:
Bobby Martin, Vince Montana, Don Renaldo, the Sweeties, Larry Washington, Zach Zachary