THE NEW MFSB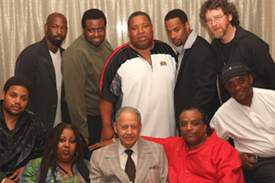 (seated from left to right) - Barton French, Carla Benson, Zach Zachary, John Ingram, Dennis Harris; (second row) -Damon Bennett, Terry Tyler, Keith Benson, Michael Clark, Jim Gallagher
MFSB is the band and background singers that assisted the legendary songwriting team Gamble and Huff in creating the world-famous "Sound of Philadelphia." MFSB recorded many of the biggest songs in music history. Classic Soul Songs like: Love Train; For the Love of Money; and Ain't No Stopping Us Now.
But they didn't stop there. MFSB members performed with more Platinum selling R&B artist, than any group in history: Al Green, Ashford and Simpson, Billy Paul, Billy Preston, Blue Magic, Bobby Caldwell, Bobby Womack, Bootsy Collins, Burt Bacharach, Chaka Khan, the Dells, Dionne Warwick, the Four Tops, Gerald Levert, Elton John, Grace Jones, Harold Melvin and the Bluenotes, the Jackson's (with Michael), James Ingram, Jerry Butler, Lou Rawls, Luther Vandross, McFadden & Whitehead, Michael McDonald, Musiq Soul Child, the O-Jays, Peabo Bryson, Patti LaBelle, Phyllis Hyman, Ronald Isley, Ruben Studdard, Smokey Robinson, the Spinners, Steve Winwood, Stevie Wonder, the Stylistics, Teddy Pendergrass, the Temptations, and many more music icons.

As World Ambassadors for TSOP and RB music, in 2003, MFSB members were chosen to go to Detroit to help Motown's legendary backup group, the Funk Brothers, with a major motion picture – the movie classic, "Standing in the Shadows of Motown." In fact, Keith Benson (MFSB since 1975) was one of the film's Associate Producers.
Current MFSB Performing Members are:
1 Keith Benson – Drums – MFSB since 1975
2 Jimmy Williams – Bass – MFSB since 1975
3 Dennis Harris – Guitar – MFSB since 1974
4 Victor Carstarphen – Keyboards – MFSB since 1972
5-6 J. Ingram & Carla Benson – Vocals –MFSB since the very beginning
7 Michael Clark – Vocals – since 2003
(and a few supporting musicians).
MFSB is as popular today as they were in the 1970's. Hit television shows like Donald Trump's "Apprentice" (For the Love of Money) and Fox TV's "American Idol" regularly employs their music. They are the hottest sound on Madison Avenue. Top advertisers use their music, constantly – advertising everything from beer (Coors – "Love Train") to trucks (Chevy – "I'll Be Around"). And now Hollywood has even gotten into the act, making extensive use of the MFSB catalog for movies.